5 Fall Cleaning Tips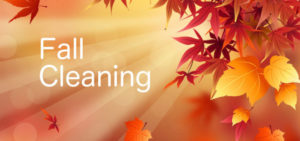 The days are getting shorter and everyone is starting to think about sitting around the fireplace instead of standing around the outdoor grill. Since everyone spends the majority of their time indoors when the weather gets cold now, is the ideal time to invest in a weekend of fall cleaning! The more you do now to clean and arrange your space, the more pleasant it will be to hunker down for winter!
Spring isn't the only time of year it pays to clean, organize and take inventory of your home and the stuff you have accumulated! Fall is the perfect time to stash your summer gear and toys and start figuring where to put all your winter gear and the snow shovel in Kansas City.
Here are 5 Fall chores that will help you get organized, de-cluttered and ready for winter.
1.) Start by going through the areas of your home that require seasonal rotation.
• Bedroom closets and chest drawers – out with summer cloths and in with fall/winter.
• Entry closet: Swap out those flip flops for raincoats, boots, scarves, hats, and gloves!
• Linen closet: Have seasonal prints for sheets towels, tablecloths, etc.? Switch them now!
• Kitchen cabinets and pantry: Move in the dish and cookware required for holiday entertaining. Check expiration dates of food and rotate out what hasn't been eaten.
2.) Rotate your wardrobe.
Get your entire family together on a weekend and swap summer wardrobes for fall. While you are switching get rid of clothes and shoes that:
• Don't fit
• Don't wear
• Stained or holes
• Old or faded
Fall and winter are great times to donate coats, warm clothing and blankets to local shelters or charities.
3.) Go though one space at a time.
Keep yourself from getting overwhelmed or making a huge mess by finishing what you start. Make piles for Keep, Give away, Trash/Recycle. When you are done with the space put away what you are keeping- and get the rest out of your house as quickly as possible.
If you're ready to have your junk picked up and hauled off, Sirna Bro's Hauling in Kansas City is the company for you! Call 913-484-9564 for your FREE estimate! No job is too large or small: As long as it fits in our truck, we can haul almost anything away! We do the heavy lifting so you don't have to.
4.) Dare to be spare!
Ease congestion by sticking to the basics and getting rid of all that extra furniture. Now, that you know it can be easily hauled away you can get the job done as soon as possible!
5.) Old electronics.
Now, is the perfect time to have those pesky electronics that have not worked for years hauled away. You can trust the professionals at Sirna Bro's Hauling in Kansas City to property dispose of your old electronics.
• T. V's
• Computers
• Printers
• Vacuums
• Old appliances
6.) Basement and attic cleanout
Sirna Bro's Hauling in Kansas City is available to help with basement and attic cleanout's. No job is too big or too small or too heavy. The Sirna Bro's understand it can be difficult to carry items up and down the stairs, so we do all of that for you!
A clutter-free home makes winter much easier to endure! Imagine walking into your home without tripping over an old couch or a pile of shoes. How about having all the old junk removed from your home and everything has a designated place. That sounds awesome, right? You can have that, but you got to declutter first, then call the professionals at Sirna Bro's in Kansas City to haul all your junk away!
We take pride in our eco-friendly disposal. We will try to donate or recycle your items so they don't end up in a landfill. We're easy on your wallet and your planet!
Call 913-484-9564 or click here for more information about how you can have your junk hauled away quickly!
"I finally got my garage back! Thanks, Sirna Brothers!" ~ Sirna Bro's Customer